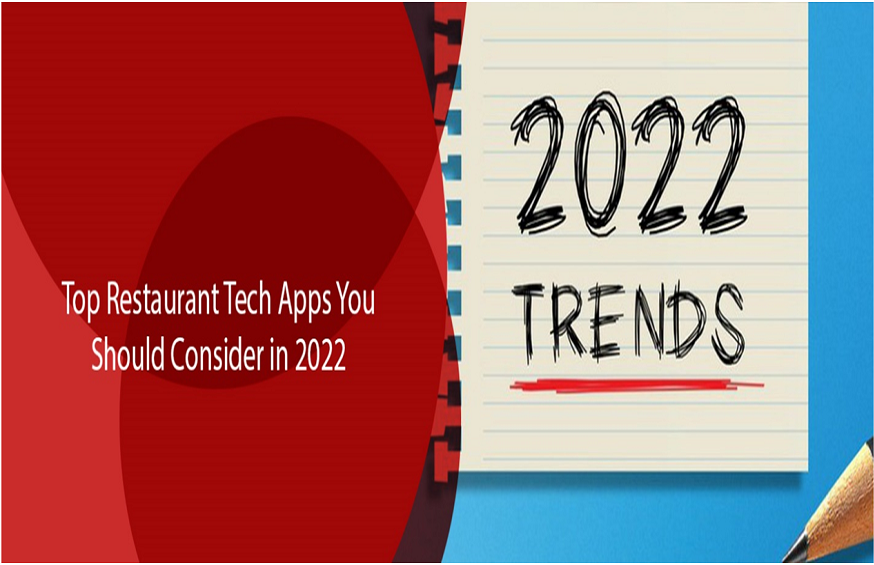 Top Restaurant Tech Apps You Should Consider in 2022
Running a restaurant is similar to running any other business. While the quality of food you serve will always stay at the top of the list, many other factors contribute to the success of a restaurant business. Reaching the top is difficult but maintaining that position is even more challenging.
That's why more and more businesses in this particular sector are turning towards restaurant tech to simplify basic functionalities, that would make the entire restaurant experience more engaging and fulfilling. While it may make ordinary tasks easy but there is one issue that usually pops up when employing tech; your internet connection. All these fancy apps, gadgets, and gizmos are of no use if your internet connection is slow or constantly inconsistent.
Always opt for a service that can offer reliability and high speed. While there are many service providers, who offer excellent monthly bundles and internet packages, always go for a service that's been recommended for premium service. One highly suggested are the Centurylink internet deals, which are affordable and highly secure too!
Our Most Recommended List of Digital Restaurant Tools
When it comes to restaurant tech, you want tools that simplify paperwork and enhance service tasks so that your restaurant can provide an amazing experience to the customer, for them to visit again and boost loyalty and retention. For your convenience, we listed some of the top restaurant apps that will streamline and smoothen your business transactions. The following listed eight apps are simply fantastic and will ensure that you take care of the tastier side of things!
Labor Management Platform – Push Operations
This app lets you manage both the in-house staff and the payroll effortlessly while also reducing a major cost. While managing staff takes a huge chunk of your time, this app makes it easier for you. The app allows managers to approve clocked times of the employees and if there are any changes needed in the schedules; the employees can also make those via their cell phones.
Moreover, this digital payroll system automates monthly calculations and allows transparency, further making it easier for staff to view their schedule and overallaggregate. On the other hand, the management simply has to input the correct info into this app and enjoy the many benefits for their business.
Automated Tax-Filling System – DAVO
Filing taxes may not be the most fun part of running a restaurant business but it is an essential one. That's why we recommend DAVO, which automates the lengthy tax-filing system while saving you a lot of time. Once the entire process of sales taxes is filed and done, the payment will automatically be made to the State Department, ensuring that you have no late fees while saving you from any extra penalties or so.
This app makes the tax filing method completely automated, stress-free, and error-free. Furthermore, this simple app also recognizes the importance of digital safety, that's why the latest SSL certificate for every web interaction, excellent backup options, and swift data recovery are also taken care of.
Food & Beverage Management – BevSpot
Are you worried about efficiently managing restaurant inventory? Stress no more for the BevSpot is a fantastic tool for managing this task only. Not only does this tool help restaurants save extra time, but it also makes the entire process easy, from placing orders to estimating costs per recipe(s) to invoice processing. You can also synchronize your BevSpot account with LightSpeed Account and import relevant data to further reduce discrepancies while saving a lot of time.
Additionally, through this digital tool, you can easily place orders to your vendor, which will be automatically updated once the order is complete, saving you a lot of time and energy. That's why more and more restaurants are automating their businesses to simplify their daily tasks while retaining task effectiveness
The Digital Bridge –Lightspeed Order Ahead
While automating the management is important, creating digital bridges to connect with your target audience is necessary. With Lightspeed Order Ahead, your audience can easily log in to their account and opt for delivery or takeaway to place an order. The Lightspeed Order Ahead allows your customer base more flexibility when it comes to placing an order, especially since there are dining restrictions placed now and then due to the rapidity of the pandemic. This tool improves revenue streams and gives you more control over delivery management.
Survey Management Platform – Hexa
Irrespective of what industry you belong to, keeping in touch with your customer base is extremely important. To track specific customer perceptions about your business, you can utilize Hexa to your advantage.
This is a great tool that uses surveys to understand your established customer base so that you can create an experience that aligns perfectly with the customers' preferences and result in optimum satisfaction and maximum customer loyalty towards the restaurant brand. Besides helping to generate positive reviews, the negative reviews of your restaurant brand can also be sorted out as you will have a clearer idea as to where you are lacking in service.
The Bottom Line…
While the menu of your restaurant should be unparalleled for your restaurant to succeed as a business, numerous small reasons also need to be factored in. Even though the pandemic shifted a lot of businesses online, this doesn't mean that the other factors such as hospitality and customer service should be sloppy and absent. Now that you integrated the latest digital tools in your business, allow your business to shine as it's easier to run the back-end processes. With internal processes automated, your tasks have been simplified.
Even though, these are some great digital restaurant tools to work with, an area of concern is if you are constantly struggling with your current ISP. To make all digital tools function without any glitch, an investment in a proper service provider is essential, especially if you want these Why not check out the website, BuyTVInternetPhone wheresome of the top ISPs of the region are listed. Why not pick a service which offers a highly-secure internet connection at reasonable rates! Hurry now before the best monthly deals end!