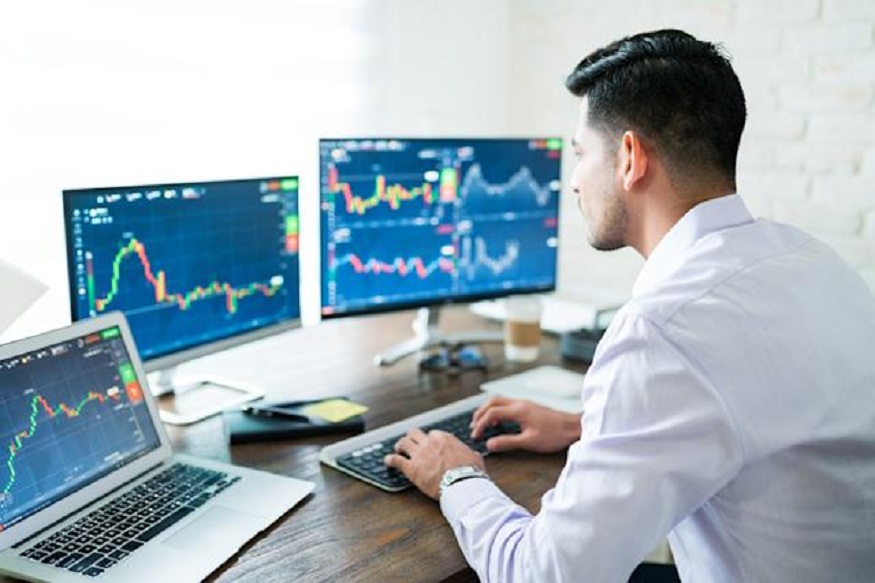 Best Share Market App for Beginners to Invest in the Indian Stock Market
Investing in the share market is long-term and short-term, depending upon your financial goal.  A financial market is a place of risk and patience; before investing, you should consult a professional or research about the company stock in which you wish to invest.
Define Share Market
A share market is a place where shares of a company are traded through a share market app. As shown in the movies, you must wonder what that rush is in the share market. But that is not the case now. Today most of the trade in the stock market is made through share market apps from anywhere in the world. When we hear about the share market, we all are eager to invest and let our money grow into profits.  You must have a financial goal to look for, such as buying a house, rebuilding your home, going on a foreign trip, etc.
To achieve this, you need to have a better trading experience. And most of the time, the earlier you start investing, the better returns you can generate. Companies who want to expand their business and grow need money to achieve this. Companies and their board of directors decide to go public to raise capital for their growth. In return for raising capital, the company offers shares to its investors. People who invest or buy shares are part owners of a company.
A share is a small unit of company ownership. You can buy or sell shares through a share trading app. When you purchase a share, you are a shareholder of a company.
A company lists its share in an IPO by working around the guideline set by SEBI.
The company first lists and announces its IPO through different media, and you can buy a lot of shares from a share trading app, a registered and credible stock broker app.
To invest in the Indian Stock market, you need to open a Demat and trading account from a share market app.
Your Demat account is used to hold and overview your shares and other financial securities, whereas the trading account is used to transfer and perform online trading activities. Both Demat and trading accounts are essential to participating in the share market activity.
Opportunity for Investing in the Share Market
When you buy a share from a share market app, there are many stocks, and you must classify them based on their market capitalization. So when you buy a share of a particular ABC company, you become a common shareholder or a preferred shareholder based on ownership.
There are three types of stocks in the Stock market:
Large-Cap Stocks
These stocks are large capital companies with a huge market capitalization and are listed in the top 100 companies list on the stock market- such as reliance, TCS and HDFC bank, etc.
Mid Cap Stocks
These companies are listed below the top 100 companies in the Stock market. It has the potential to grow and moderate risk. Companies such as Apollo tire, BOI, and L & T finance are mid-cap companies in India.
Small-Cap Stocks
Companies that have just established and have low market capital are falling in small-cap stocks. These companies' stocks are riskier and also have the potential to grow with higher returns.  Companies such as Bajaj electric, Future retail, and CEAT lie in the Small-cap stocks.
Why Share Market App?
An online share Market app is a platform with tools and services that allows traders and investors to trade and manage their financial portfolio from one place. Investors and traders can make trading decisions without any middleman or any hectic procedure of physical stock trading. It shows the live market price of stocks and multiple financial assets to invest and get better returns.
For experiencing hassle-free trading, you need to open a trading and Demat account from a single stockbroker app. There are lots of share trading apps available in India. You need to check the app fees, charges, and other features of the stock trading app. To make things easy, you can use the IIFL Market app. This share market app has lots of features and reliable customer service.
Five major reasons to choose the IIFL Market app
Latest technology
Multiple graphs & charts
Simple UI
Easy payment methods
Free Demat account
With the IIFL Market app, you can get a free Demat and trading account opening. The fees and transaction charges of the IIFL Market app are low and competitive. You can trade in multiple financial assets and track all your investments with a single click. The IIFL Market app gives you valuable insight and news about the financial market.